Ship Wars is fun PvP map which requires at least two players. You will be separated on two different floating ships and the objective is simply to destroy the other team's ship. To do this you can use three different weapons which each cause a different type of damage and that is mainly what the addon is used for. If you want to be able to replay the map then make sure to download the world template.
Creator: , Twitter Account
How to play?
Split up on two opposite teams (blue and red) and then teleport (/teleport <x> <y> <z>) to the coordinates as found on the two signs in-game.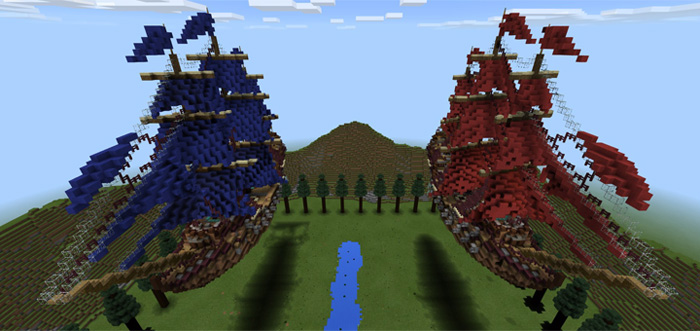 Once you have spawned on the ship you are not allowed to move until everyone have been teleported to their ship. Then start a countdown from 10 and after that has happened you are allowed to move and make a quick run for the chests somewhere around on the ship to find the weapons.
Dynamite Stick (explosive) = Egg
Lightning Staff (lightning) = Snowball
Bow and Arrow (causes fire)

Use the weapons to destroy the other team's ship. If you are killed you are not allowed to rejoin until the round has finished. The round ends as soon as all members of one team are dead or if a ship is entirely destroyed.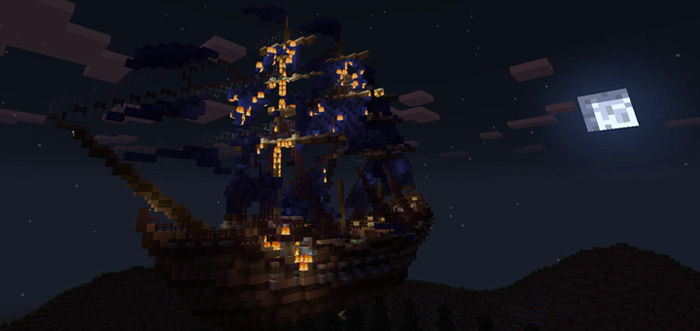 You can restart the map by using the world template.
Important: Make sure there is a resource pack and a behavior pack enabled for the world before starting.
Download Map .McWorld
Download World Template .McPack
Download .ZIP